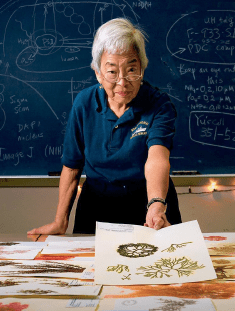 Abbott's lifelong passion
was the study of limu – the
Hawaiian word for marine
algae. But her approach to
limu wasn't narrowly
scientific; Abbott spent the
second half of her career
teaching ethnobotany at
the University of Hawai'i:
Mānoa.
Hawai'i's First Lady of Limu
Isabella Abbott wrote the book on Pacific algae and inspired a generation of young scientists
        – Story by Shannon Wianecki.
On foraging trips with her mother,
Isabella Aiona Abbott looked for sprigs
of edible limu (seaweed) adrift in the
tide at Waikīkī. Back then, in the 1920s,
there were no planes in the sky and
only a few tourists on the beach.
Waikīkī's first major hotel, the Moana
Surfrider, was brand new; the Royal
Hawaiian had yet to be built. Limu
līpoa, a coveted golden-brown
seaweed, still grew thick in the seabed
here, and its fragrance carried a long
distance on the wind.
How the 'First Lady of Seaweed' Changed Science
Isabella Abbott, the first native Hawaiian woman to earn a doctorate in science, rewrote the book on her beloved limu.
Atlas Obscura, March 11, 2022
By Soshi Parks
ISABELLA KAUAKEA AIONA ABBOTT'S EDUCATION in seaweed began early. Through her childhood, she and her siblings combed the shores of Honolulu and Lahaina for edible varieties; Abbott's Native Hawaiian mother could recognize and name nearly every one of the five dozen or so varieties of limu at their fingertips. At home, they pounded and added salt to seaweeds like the fuzzy, coppery limu kohu (Asparagopsis taxiformis) and the soft, tangled limu wawae'iole (Codium edule). They dipped the branchy, centipede-like limu huluhuluwaena (Grateloupia filicina) in tempura batter and deep-fried it.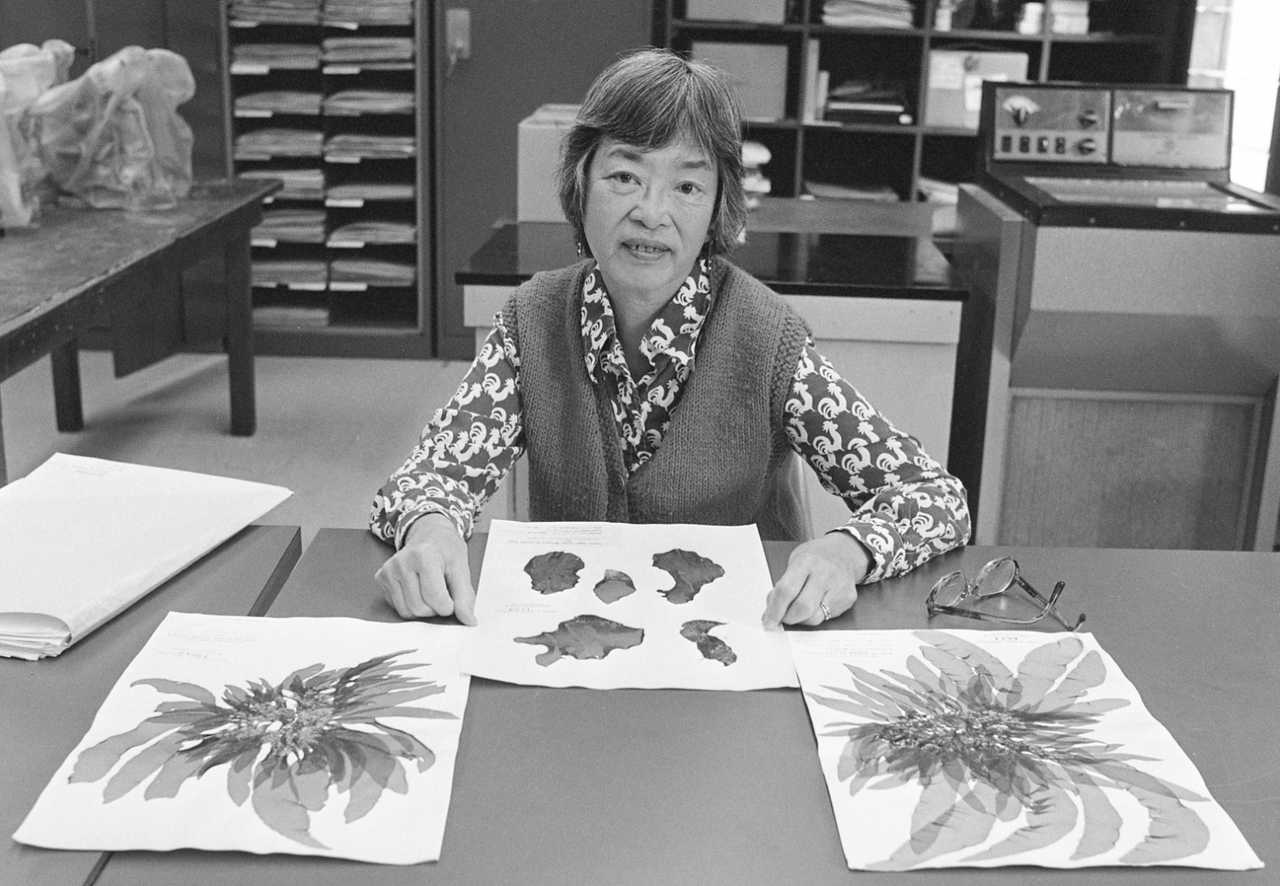 Isabella Abbott was a prolific researcher who changed our understanding of seaweed and discovered hundreds of new species.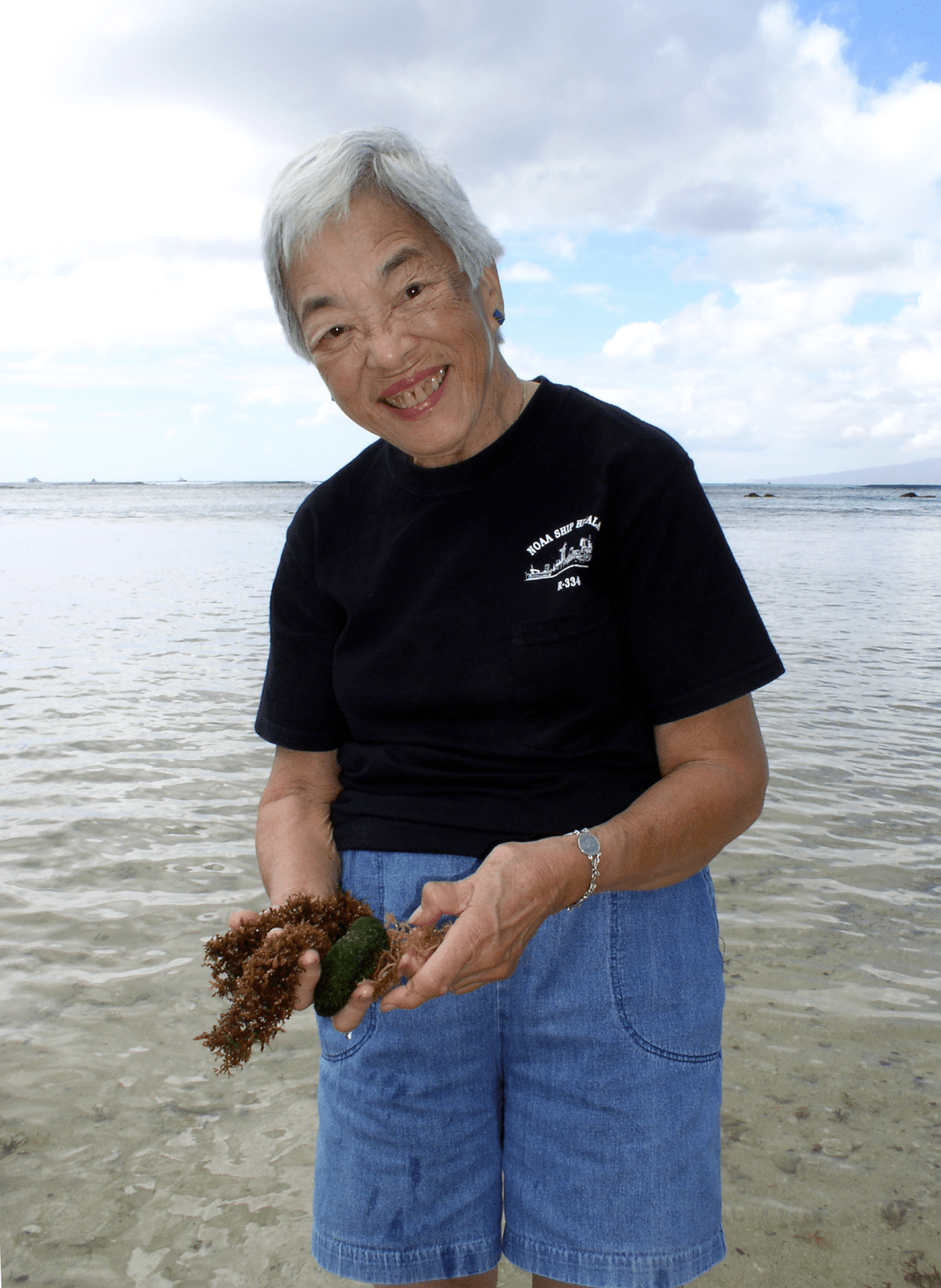 Isabella Kauakea Aiona Abbott, 91, passed away October 28, 2010, in Honolulu.
 Born June 20, 1919 in Hana Maui as the only girl in an Hawaiian-Chinese family (with five brothers), Isabella graduated from Kamehameha Schools, Class of 1937 where she was known to be a 'walking dictionary' and became editor-in-chief of the Ka Mo'i yearbook. In 1941, she received her AB in Botany from the University of Hawai'i at Mānoa, and followed with her MS in Botany for her algal studies from the University of Michigan in 1942. After the war, in 1950, she received her Ph.D. working in algal taxonomy from the University of California, Berkeley, becoming the first person of Hawaiian ancestry to attain a Ph. D. For more than five decades, Dr. Abbott was the pre-eminent marine botanist of the Pacific region.
She became the first woman appointed as Full Professor in the Biological Sciences Department at Stanford University. Assigned to the Hopkins Marine Station, Stanford University's research laboratory located in Monterey Bay, she began her prolific research and publication career, aided by a remarkable ability to realize what her discipline, marine botany, needed to move forward and the sustained drive to deliver those contributions. One of her first definitive publications was the 800 page Marine Algae of California, the authoritative treatment for taxonomy of marine algae on the West Coast of the US seen by colleagues as "a quantum advance", "a superb guide" and "an outstanding and scholarly account". After more than 30 years at Stanford, she and husband Dr Donald Abbott returned to Hawai'i where Dr Isabella Abbott was appointed as the Wilder Chair, Department of Botany, University of Hawai'i at Mānoa as well as a Distinguished Research Associate at Bishop Museum. Within the first year home, 1984, she published Limu: an ethnobotanical study of some Hawaiian seaweeds. By 1992, she authored La'au Hawai'i, an instant classic and emerged as a leader in study of Hawaiian and Polynesian cultural uses of plants - ethnobotany. Despite the intense effort spent in writing La'au Hawai'i, Dr Abbott never waivered from life long love of limu, working six days a week and publishing two to three papers a year in algal taxonomy, including the first comprehensive study of the algae of the Northwestern Hawaiian Islands. In 1999, she published the authoritative 465 pg text, 'Marine red algae of the Hawaiian Islands' dedicated to her mother Annie Keanu Aiona, and in 2004, the 260 pg text, 'Marine green and brown algae of the Hawaiian Islands with J Huisman. In 2007, Hawaiian Reef Plants, a collaboration with JM Huisman and CM Smith, became an award winning book illustrating common Hawaiian reef algae. Dr. Abbott's most recent research was funded generously by awards from the Packard Foundation and the National Oceanic and Atmospheric Administration (NOAA).
In 1997 she was awarded the Gilbert Morgan Smith medal, the highest award in marine botany, from the National Academy of Science. Recognizing her contributions to science and her impacts on culture and education, she was the recipient of many awards. Over the last decade, her awards include: Lifetime Achievement, US Coral Reef Task Force, 2008; Centennial Awardee, Botanical Society of America, 2006; Living Treasure from the Honpa Hongwanji 2005; Lifetime Achievement award, Phycological Society of America and the Ke Ali'i Pauahi Award, Kamehameha Schools both in 2003; David Malo Award from the West Honolulu Rotary Club and National Distinguished Ethnobotanist, Society of Economic Botany both in 2001. Although retired as emeritus professor of Biological Sciences at Stanford and emeritus Wilder Professor, Botany, UH Manoa, she continued working on her projects to within weeks of her passing. The current Malamalama alumni magazine highlights her as Hawai'i's "First lady of limu" .
Known through out her career as a dedicated scholar and prolific writer, Dr Abbott published over 170 research papers, books and technical reports. She gave very generously of her time in service of numerous organizations in Hawai'i including 12 years on the Board of Directors, Bishop Museum, the Kaho'olawe Island Reserve Commission, the Reserve Advisory Council for the Northwestern Hawaiian Islands Coral Reef Ecosystem Reserve (now part of the Papahānaumokuākea Marine National Monument) and the Native Hawaiian Culture and Arts Program (NHCAP).
What she will be most remembered for is her love of family, friends, Hawaiian culture and limu. Generations of students, professionals, and communities were nurtured by her enthusiasm and curiosity about the plants of our islands and encouraged to explore their own careers with her untiring support.
Her family includes daughter Annie Abbott Foerster, of Kāne'ohe and granddaughter Catherine Foerster of Danville California.
Memorial services are planned.
The Department of Botany, University of Hawai'i has established a fund to honor Dr Abbott by supporting graduate research in Hawaiian marine botany and ethnobotany. Donations to honor and sustain her legacy can be made to the Bishop Museum, Honolulu HI and or to support the graduate fellowship in her name, Department of Botany, University of Hawai'i.
Isabella Aiona Abbott | Long Story Short with Leslie Wilcox
Original air date: Tues., Jun. 17, 2008
How much do you know about limu, seaweed or marine algae? Isabella Aiona Abbott may know more about it than anyone else. She learned about its many uses, varieties and their Hawaiian names from her mother who learned from her mother whose mother lived during the times of the kapu system, when women could gather limu but not eat ­or even touch ­taro.
Now a world-renowned expert on marine algae and Professor Emerita at the University of Hawai'i, Dr. Abbott joins Leslie Wilcox for an engaging conversation.