Dr. Isabella Kauakea Aiona Abbott
Dr. Isabella Kauakea Aiona Abbott
Nā Mamo O Mū`olea (NMOM) is a non-profit group whose mission is to "perpetuate traditional ahupua'a management of the Mū`olea ahupua`a; and to restore and maintain the area's natural, cultural, scenic, historic and marine resources for the benefit, education and enjoyment of our community and future generations." Our vision is to build capacity within our Hāna Community; therefore, we provide scholarship funds to local individuals in need to fulfill educational degrees.
To honor the life, work and achievements of Hāna-born scientist and researcher Dr. Isabella Ka`uakea Aiona Abbott, NMOM created a scholarship to help post-high school graduates pursuing a career in Botany, Ethnobotany, Marine Science, Hawaiian Studies or related fields of study.
Funds for the scholarship are raised through a silent auction held at each annual Hāna Limu Festival, as well as other private donations.
Dr. Abbott was the first native Hawaiian to receive a PH.D in science. She is a world-renowned algae (limu) taxonomist, and is the foremost expert on central-Pacific algae. To her credit she has numerous books, and has published more than 100 research papers. She is the leading expert on Hawaiian limu, and dedicated her life to protecting Hawaii's reef ecosystems. As a Professor of Ethnobotany at UH Mānoa, she mentored and influenced many of her students to pursue careers in Ethnobotany and Marine Science. In 2005 "Tutu Abbott" as she is affectionately known was honored as a Living Treasure of Hawai'i. She passed away in 2010 at the age of 91.
If you have any questions about the Nā Mamo o Mū`olea Scholarship, including making a donation or submitting an application, please email scholarship@muolea.org.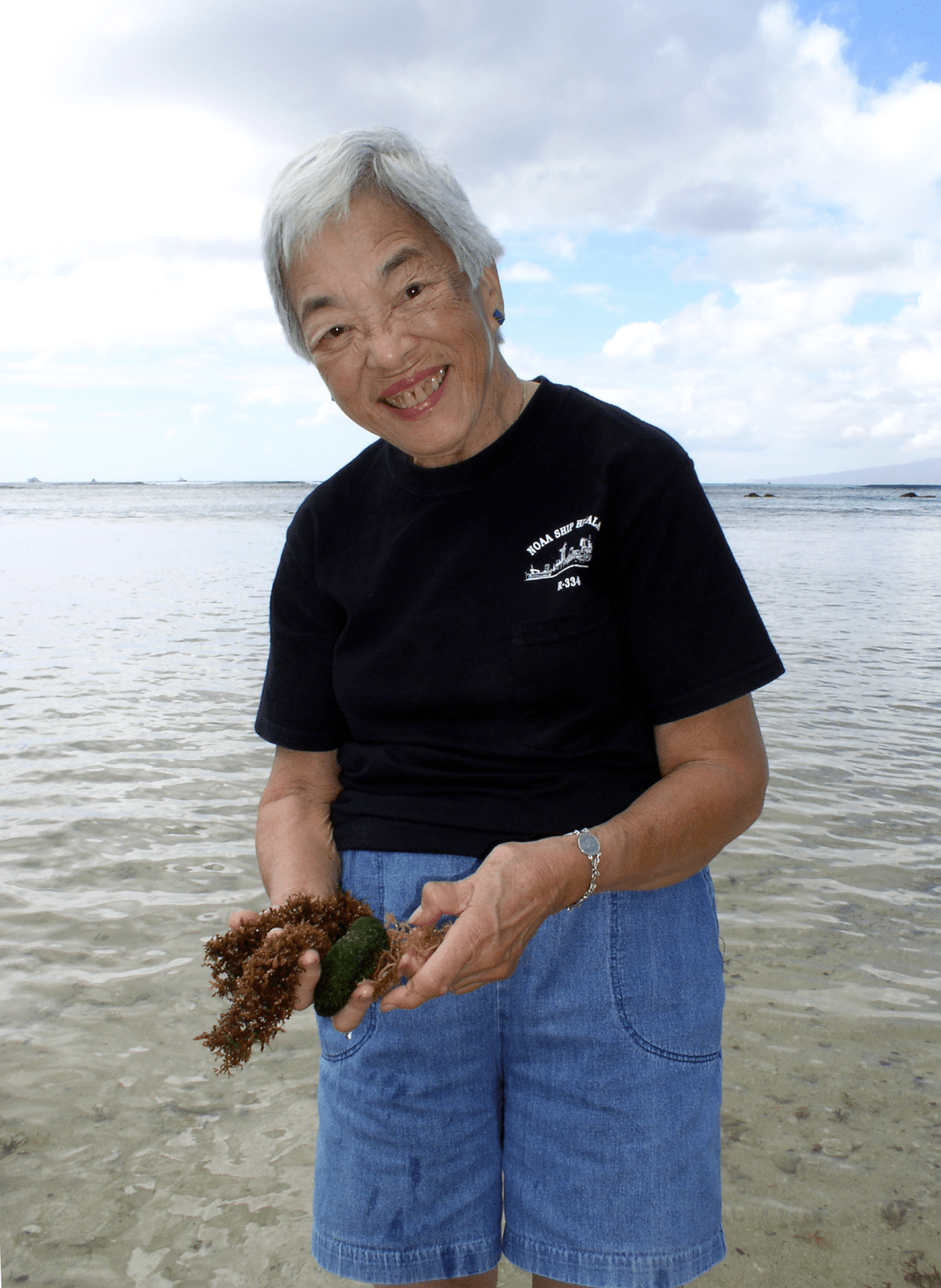 Dr. Isabella Aiona Abbott Scholarship Recipients
Hi'ilani Aiona       Ipo Mailou
Kaunaoa Helekahi-Burns      Ethan Waihua Pu
John Villiarimo       Kane Kanaka'ole
Sarah Kanaka'ole      Kahaiaokaponiaokalaola Morishita  
Maile Barbieto         Harmony Cosma-Gonsalves
Max Abraham            Waihui Park
Jackie D. Krause           Christopher Chow
Mikayla Thomas           Paulo Burns
Bailey Spry      Tu'upua Helekahi-Burns
Hāna Side News - 2021 - Summer Issue
Nā Mamo O Mū'olea is proud to announce that we have awarded the Isabella Aiona Abbott Scholarship for the 2021 Fall Semester to two outstanding applicants.
The first recipient of the scholarship is Hana High School Senior Tu'upuamālamakahonua Shemuel Helekahi. Tu'u will recieve  $1000 to help her pursue her college education at  the University of Hawaii at Hilo.  Tu'u is planning on double majors in Political Science and Hawaiian Studies.  Our entire board agrees she will make her 'ohana, our Hāna community, and our Lāhui proud!  Good luck and go get 'um Tu'u!
The second recipient is Bailey Spry.  Bailey is a second time recipient of the Dr. Isabella Kauakea Aiona Abbott scholarship.  Bailey intends to graduate from UH Mānoa in the Spring of 2022 with a Bachelor of Science degree in Botany. Her particular interests are algae and fungi, and Bailey is considering a graduate degree with a focus on Hawaiian Marine Algae. In other words, Bailey plans to study Limu! After college Bailey intends to return to her home in Kipahulu to apply her education to supporting East Maui community food systems and conservation.  Nā Mamo is proud and happy that our contributions to Bailey's academic journey helps her to earn her degree.  We look forward to her expertise benefiting our Hāna community and our Lāhui.
The Dr. Isabella Kauakea Aiona Abbott scholarship was established in 2010, in honor of Dr Abbott, a world-renowned Botanist, Ethnobotants and Limu specialist who was born here in Hana and went on to be the first Hawaiian woman to earn a Phd in Science.  The scholarship is funded through donations and a Silent Auction which is held during our annual Hāna Limu Festival.  To date, Na Mamo o Mu'olea has awarded  $21,000 in scholarships to 18 recipients!  The Covid-19  pandemic guidelines forced us to cancel the Limu Festival  2 years in a row, but we are able to continue awarding our scholarship this year through the generosity of private donors.  We look forward for the day we can all safely gather again at our Limu Festival to continue to raise awareness of our makai ecosystems, 'opihi, herbivore fish stock, and our precious limu.
Donations can be made to: Nā Mamo O Mū'olea    P. O. Box 824    Hāna, HI   96713