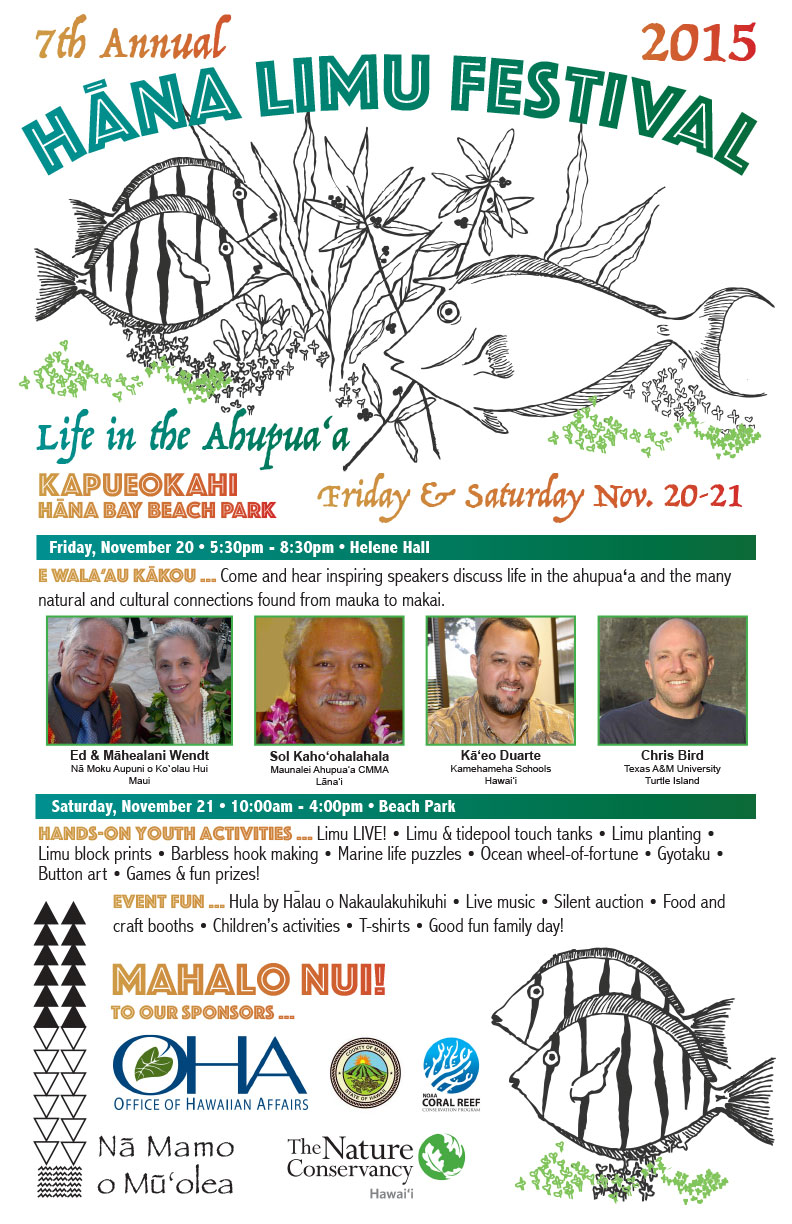 Presentations from 2015 Hāna Limu Festival
An Overview of Hāna Limu Festival
An Introduction to Nā Mamo O Mūʻolea
Ed and Māhealani are pili to Ke'anae and Wailuanui ahupua'a of Ko'olau, Maui.
Māhealani was the Executive Director of the Native Hawaiian Legal Corporation, a public interest lawfirm, for 32 years.
Ed Wendt is a Maui boy, served in the Army 173rd Airborne Brigade in Vietnam, worked as a building contractor for many years and farmed taro on his family's ancestral lands in Wailuanui all his life. He has served as board member and president of his community organization, Nā Moku Aupuni o Ko`olau Hui, since its founding 25 years ago.
Kāʻeo Duarte – Kamehameha Schools
Kā'eo Duarte is the Vice President of Community Engagement & Resources for Kamehameha Schools.
Duarte's group oversees both land asset and educational portfolios in an effort to unify and elevate people, programs, and lands for more effectiveness and impact.  This includes more than 360,000 acres of agricultural and conservation lands, community resource centers, and sustainability initiatives.
Duarte is from the ahupua'a of Holualoa, Kona, on Hawai'i island. He holds a B.S.E. in civil engineering from Princeton University and a Ph.D. in environmental engineering from the MIT.
Shane Sinenci is the 'Aha Moku Council Representative for Hāna
Sol Kahoʻohalahala – Maunalei Ahupaʻa CMMA, Lānaʻi
Uncle Sol is from the island of Lāna' A true renaissance man, he has an esteemed career as a multi-term County Councilman, State Representative, and Executive Director of the Kaho'olawe Island Reserve Commission.
He has sailed the Pacific with Hōkūle'a, is a talented musician and serves on the board of Ka ʻOhana O Kalaupapa, and the Maui Nui Marine Resources Council.
He is passionate about Lāna'i, Hawaiian culture, natural resources and restoring and preserving these for current and future generations.
He currently leads the grassroots effort to heal the 'āina and restore the land and reefs of Maunalei Ahupua'a community managed makai area.
Chris Bird, Ph.D. – Associate Professor of Biology
I am broadly interested in using molecular genomics to advance our understanding of marine species and promote the sustainability of marine ecosystems. Projects in my lab are focused on the processes driving the evolution of marine species on the scale of days, to months, to years, in response to anthropogenic and natural processes. For example, we are investigating the impact of harvest intensity and climate change on the evolution of fisheries species and how this impacts sustainability, from tropical Pacific shellfish to reef fish. I am strongly computationally focused and engage in population genetic simulation, particularly with respect to species invasions and nuisance lionfish.
In Memoriam - Henry Wang Wo
Uncle Wally grew up in the ahupua'a of Kapālama. He is the Limu Hui Coordinator for Kua'āina Ulu 'Auamo, also known as KUA, an organization that is creating an archipelago-wide movement that is empowering communities.
In the summer of 2009 Uncle Wally was asked by Uncle Henry Chang Wo to help him with a limu workshop for the Kahana Bay community.
Since then, Uncle Wally and Uncle Henry have conducted numerous workshops together to educate people about the environmental importance of limu but more so about the cultural significance of limu for Hawaiians.
Through their shared passion and love for limu, many of us have come to know the value of limu.