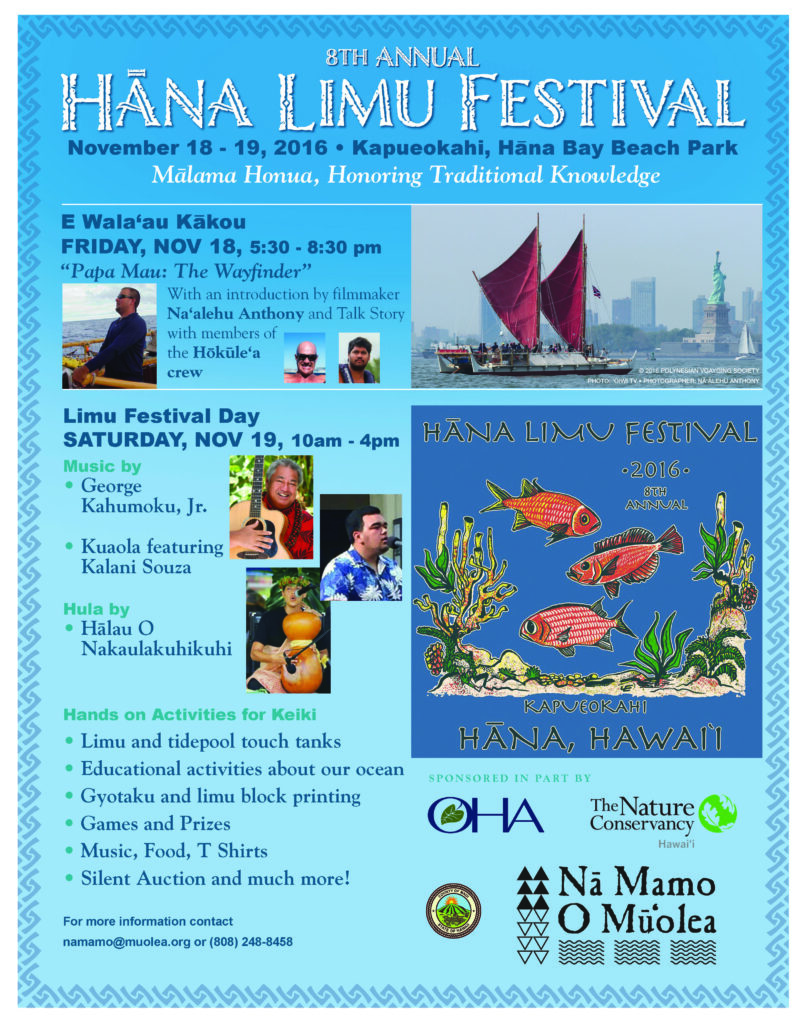 Celia Smith studied Botany at UH Mānoa and at Stanford, where she first met her close personal friend and mentor, Dr. Isabella Aiona Abbott.
Celia is a Professor of Botany at UH Mānoa, and her current research is focused on the restoration of reefs at Waikīkī, which she considers a model for many reefs in Hawai'
Nakua Konohia–Lind – Poynesian Voyaging Society
Nakua grew up in Hana, Maui and was first introduced to Hōkūleʻa in 2012 while taking classes at the Marine Education Training Center at Honolulu Community College. He sailed on the first leg of the Worldwide Voyage, serving as Quartermaster on Hikianalia.
Nakua hopes that, through the Worldwide Voyage, we will improve the sustainability of our future. Nakua looks forward to gaining more personal knowledge while sailing and will be challenged by the need, as quartermaster to keep the manifest in order. While not sailing, Nakua enjoys swimming and volunteering.
Hāna Limu Festival Organizer
Mikala Minn – Mahele Farm Manager
Mikala Minn, sustainable agriculture advocate and manager of Mahele Farms in Hana, is the 2019 recipient of the Mālama i ka ʻĀina Award. The award is given each in recognition of achievements to address the threat and spread of invasive species in Maui County.
Minn's efforts to both develop and promote a rat and slug management protocol to safeguard against rat lungworm disease prompted his selection as the 2019 recipient. Minn's devotion to Maui agriculture and commitment to protecting the community from the threat of invasive species extends beyond the 2016 spike in rat lungworm disease in East Maui. Minn, both in his role at Mahele Farms, as active member and officer in the Hawaii Farmers Union United, has alerted his East Maui neighbors and fellow farmers to proactive steps they can take to prevent the establishment little fire ants and protect the health of the land.
Legario Eharis Jr. "Hank"
President,
Na Mamo O Mū'olea
Mission:
To perpetuate traditional 'ahupua'a management of the Mū'olea 'ahupua'a and to restore and maintain Mū'olea's natural, cultural, scenic, historic and marine resources for the benefit, education and enjoyment of our community and future generations.