Na Mamo O Mū'olea
Mission:
To perpetuate traditional 'ahupua'a management of the Mū'olea 'ahupua'a
and to restore and maintain Mū'olea's natural, cultural, scenic, historic and marine resources
for the benefit, education and enjoyment of our community and future generations.
---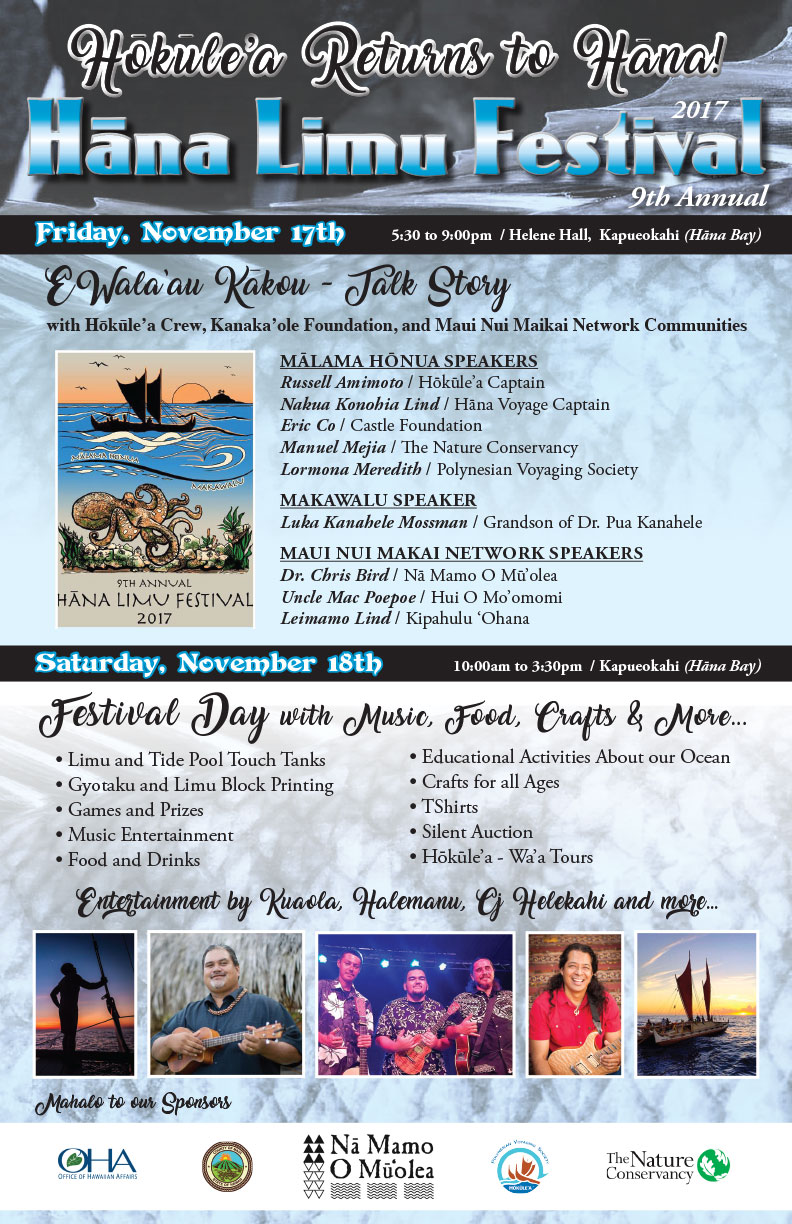 9th Annual Hana Limu Festival, Nov. 17-18, 2017
Maui Now, Nov. 3, 2017
Two-day Hana Limu Festival includes speakers and activities
Maui News, Nov. 12, 2017
Hokulea's Voyage To Hana Is A Homecoming For Young Captain
Hana native Nakua Konohia-Lind, 24, will be the youngest captain of the storied voyaging vessel when it sails into East Maui.
Honolulu Civil Beat, Nov. 17, 2017
Hōkūleʻa celebrates the 9th Annual Limu Festival in Hāna as part of Mahalo, Hawaii Sail
Hokulea.com, Nov. 17, 2017
Hokule'a Visits Hana During 9th Annual Hana Limu Festival
Sen. J. Kalani English Newsletter, Dec. 1, 2017
---
2017 Dr. Isabella Kauakea Aiona Abbott Scholarship Awardees
Congratulations to Kane Kanaka'ole, Max Abraham, and Harmony Gonsalves-Cosma, this year's recipient of scholarships of $1500 each
from the Dr. Isabella Ka'uakea Aiona Abbott Scholarship Fund.
To honor the life, work and achievements of Hāna-born scientist and researcher Dr. Isabella Kauakea Aiona Abbott, Nā Mamo O Mū'olea has
created a scholarship to help post high school graduates pursuing a career in Botany, Ethnobotany, Marine Science and/or Hawaiian Studies.
Dr. Abbott was the first native Hawaiian woman to receive a PH.D in science. She was a world-renowned algae taxonomist, and the foremost expert on central-Pacific algae. To her credit she has numerous books, and has published more than 100 research papers. She was the leading expert on Hawaiian limu, and dedicated her life to protecting Hawaii's reef ecosystems. As a Professor of Ethnobotany at UH Mānoa, she mentored and influenced many of her students to pursue careers in Ethnobotany and Marine Science. In 2005 "Tutu Abbott" as she is affectionately known was honored as a Living Treasure of Hawai'i. She passed away in 2010 at the age of 91.
Funds for the scholarship are raised primarily through the silent auction at the annual Hāna Limu Festival held in November each year.
Kane will be studying Hawaiian Studies and Language at University of Hawaii at Hilo, Max will be studying Sustainable Science Management at University of Hawaii - Maui College, and Harmony will be studying Early Childhood Education and Hawaiian Studies at University of Hawai'i Maui College.
---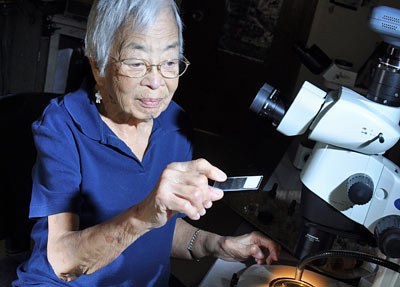 3 Hāna Graduates Honored with Abbott Scholarships
MauiNow.com, July 29, 2017
---
Overview of 7th Annual Hana Limu Festival, held at Kapueokahi on Nov. 21, 2015
from Akaku Maui Community Media.
---
PO Box 824
Hana, HI 96713

808-248-8458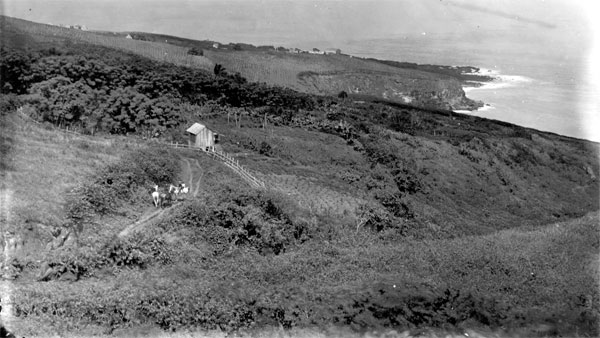 Mu'olea Point in 1888 (in the background, by Hedemann)
Strategic Plan
Nā Mamo O Mū'olea Strategic Plan, July 2013 (PDF)
Protecting our source of life and inspiration
Coral Reef and Fish
Summary of Findings - 2009-2010 Coral Reef and Fish Surveys: Mū'olea, Maui (PDF)
Archaeological Report
Preliminary Report on an Investigation of the Ages of Cultural Sites at Mū'olea, Maui (PDF)
Thomas S. Dye, Ph.D., December 26, 2007
Plant Survey
Vascular Plant Species List for Muū'olea Point (PDF)
Patti Welton and Bill Haus, April 24, 2006